A B C D E F G H I J K L M N O P Q R S T U V W X Y Z All
A
A. dos Santos, Luiza Helena Brandelli
Abecasis, Francisco
, Pediatric Intensive Care Unit, Hospital de Santa Maria, Lisbon (Portugal)
Abib, Murilo Delboni
, Unimar-Universidade de Marília (Brazil)
Abib, Thays Delboni
, Unimar-Universidade de Marília (Brazil)
Abreu, Carolina
Abreu, Jesus Antonio de Carvalho
Acosta, Angelina
, Universidade Federal da Bahia (Brazil)
Acosta, Angelina Xavier
, Faculdade de Medicina da Bahia - Universidade Federal da Bahia (Brazil)
Acquarone, Mariana
, Instituto Oswaldo Cruz-Fiocruz (Brazil)
Adorne, Elaine de Fatima
(Brazil)
Advincula, Janina Karla dela Cruz
, De La Salle University-Dasmariñas
Afonso, Joana
, Serviço de Pedopsiquiatria, Hospital D. Estefânia, Centro Hospitalar Lisboa Central, Lisboa (Portugal)
Afonso, Paula
, Centro Hospitalar Barreiro Montijo (Portugal)
Agostini, Joice Andreia
(Brazil)
Aguiar, Daniel C.
Aguiar, Eduardo Silva
(Brazil)
Aires, Sofia
, Centro Hospitalar Tondela-Viseu (Portugal)
Albuquerque, Carlos Eduardo
(Brazil)
Albuquerque, Isabella Martins de
(Brazil)
Albuquerque, Luciano C.
Albuquerque Santos, Zilda Elizabeth de
, Universidade Federal do Rio Grande do Sul (Brazil)
Alcalde, Luisa Azambuja
, PUCRS (Brazil)
Alencar, Cristiane
, Universida Luterana do Brasil (ULBRA)
Alles, Mônica C.
Almas, Saulo
Almeida, Carla S. de
Almeida, Danyelle Rego Barros
, Universidade Estadual de Ciências da Saúde de Alagoas (Brazil)
Almeida, Gabriela L. dos Santos
Almeida, Rogério José de
(Brazil)
Alquati, Tamila
, Hospital São Lucas
Alvares, Beatriz Regina
(Brazil)
Alvares, Beatriz Regina
, Universidade Estadual de Campinas (Brazil)
Alvarez-Otero, Yanet
, Fundacion Valle del Lili (Colombia)
Alves, Carmen Laís Gervásio Fônseca
Alves, Everton Fernando
, Universidade estadual de Maringá (UEM) (Brazil)
1 - 35 of 2240 Items
1
2
3
4
5
6
7
8
9
10
>
>>
***************************************************************************************************************
From 2011 (when it was indexed in Scopus), Scientia Medica features the Scimago Journal & Country Rank (SJR) impact factor.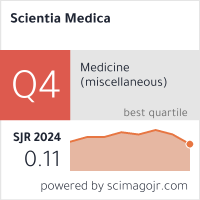 This journal is a member of, and subscribes to the principles of, the Committee on Publication Ethics (COPE) http://www.publicationethics.org

Except where otherwise noted, content of this journal is licensed under a Creative Commons Attribution 4.0 International license.
Editorial Policies of Brazilian Scientific Journals. Deposit availability: Blue .
Copyright: © 2006-2018 EDIPUCRS