A B C D E F G H I J K L M N O P Q R S T U V W X Y Z All
A
A. dos Santos, Luiza Helena Brandelli
Abbad, Gardênia da Silva
Abecasis, Francisco
, Pediatric Intensive Care Unit, Hospital de Santa Maria, Lisbon (Portugal)
Abib, Murilo Delboni
, Unimar-Universidade de Marília (Brazil)
Abib, Thays Delboni
, Unimar-Universidade de Marília (Brazil)
Abreu, Carolina
Abreu, Jesus Antonio de Carvalho
Acosta, Angelina
, Universidade Federal da Bahia (Brazil)
Acosta, Angelina Xavier
, Faculdade de Medicina da Bahia - Universidade Federal da Bahia (Brazil)
Acquarone, Mariana
, Instituto Oswaldo Cruz-Fiocruz (Brazil)
Adami, Liana Beni
(Israel)
Adorne, Elaine de Fatima
(Brazil)
Advincula, Janina Karla dela Cruz
, De La Salle University-Dasmariñas
Afonso, Joana
, Serviço de Pedopsiquiatria, Hospital D. Estefânia, Centro Hospitalar Lisboa Central, Lisboa (Portugal)
Afonso, Paula
, Centro Hospitalar Barreiro Montijo (Portugal)
Agostini, Joice Andreia
(Brazil)
Aguiar, Daniel C.
Aguiar, Eduardo Silva
(Brazil)
Aires, Sofia
, Centro Hospitalar Tondela-Viseu (Portugal)
Albuquerque, Carlos Eduardo
(Brazil)
Albuquerque, Isabella Martins de
(Brazil)
Albuquerque, Luciano C.
Albuquerque Santos, Zilda Elizabeth de
, Universidade Federal do Rio Grande do Sul (Brazil)
Alcalde, Luisa Azambuja
, PUCRS (Brazil)
Alencar, Cristiane
, Universida Luterana do Brasil (ULBRA)
Alles, Mônica C.
Almas, Saulo
Almeida, Carla S. de
Almeida, Danyelle Rego Barros
, Universidade Estadual de Ciências da Saúde de Alagoas (Brazil)
Almeida, Gabriela L. dos Santos
Almeida, Rogério José de
(Brazil)
Alquati, Tamila
, Hospital São Lucas
Alvares, Beatriz Regina
(Brazil)
Alvares, Beatriz Regina
, Universidade Estadual de Campinas (Brazil)
Alvarez-Otero, Yanet
, Fundacion Valle del Lili (Colombia)
1 - 35 of 2310 Items
1
2
3
4
5
6
7
8
9
10
>
>>
********************************************************************************************************************
From 2011 (year in which it was indexed in Scopus) Scientia Medica counts on the Scimago Journal & Country Rank (SJR) impact factor: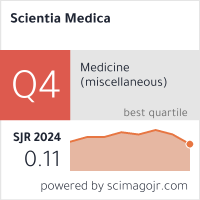 This journal is a member of COPE (Committee on Publication Ethics) and follow the principles recommended by this international reference organization on integrity and ethics in scientific publication: http://www.publicationethics.org

Except where otherwise noted, the material published in this journal is licensed under a Creative Commons Attribution 4.0 International license, which permits unrestricted use, distribution, and reproduction in any medium, provided the original publication is properly cited.
Attribution — You must give appropriate credit, provide a link to the license, and indicate if changes were made. You may do so in any reasonable manner, but not in any way that suggests the licensor endorses you or your use.
Editorial policies of Brazilian scientific journals. Availability for deposit: BLUE

    http://www.wame.org

Copyright: © 2006-2018 EDIPUCRS