Focus and Scope
Scientia Medica (Sci Med.) is the official peer-reviewed journal of the School of Medicine and the Hospital São Lucas of the Pontifical Catholic University of Rio Grande do Sul.
This open access journal has the mission to contribute to the dissemination of scientific knowledge in the several areas of Medicine and other Health Sciences, with an interdisciplinary focus and with regional, national and international scope.
It is presently indexed in WEB OF SCIENCE, LILACS, SCOPUS, EMBASE, DOAJ, LATINDEX, and DIALNET.
Section Policies
Original Articles
Original articles are those that result from a research. In GUIDELINES FOR AUTHORS there are more details on the rules for this type of article.
| | | |
| --- | --- | --- |
| Open Submissions | Indexed | Peer Reviewed |
Case Reports
Case Reports may include up to three cases, while a larger number features a Case Series. Case Reports require approval by a Research Ethics Committee, as well as Original Articles. See more details in GUIDELINES FOR AUTHORS A maximum of five authors, which have participated effectively in the preparation of the report, are admitted.

| | | |
| --- | --- | --- |
| Open Submissions | Indexed | Peer Reviewed |
Review Articles
Currently, Scientia Medica is only publishing review articles invited by the journal's editorial staff. Nevertheless, even those invited articles will be submitted to peer-review, following the usual procedure.
Please see more details on the guidelines for this type of article in RULES FOR REVIEW ARTICLES
| | | |
| --- | --- | --- |
| Open Submissions | Indexed | Peer Reviewed |
Letters to the Editor
| | | |
| --- | --- | --- |
| Open Submissions | Indexed | Peer Reviewed |
Education in Health Sciences
This section includes articles on Medical Education or other disciplines within the Health Sciences
| | | |
| --- | --- | --- |
| Open Submissions | Indexed | Peer Reviewed |
History of Medicine
Articles that address topics of interest to the history of medicine.
| | | |
| --- | --- | --- |
| Open Submissions | Indexed | Peer Reviewed |
Research Article
| | | |
| --- | --- | --- |
| Open Submissions | Indexed | Peer Reviewed |
Peer Review Process
This journal employs the peer review system in the processing of manuscripts submitted for publication. All submitted articles undergo an initial assessment by the editors to verify if the subject is within the focus and scope of the journal and if the journal's guidelines and the minimum required quality standards are met. Still in this initial phase, the original is inserted in a software specialized in identification of plagiarism, to verify possible excessive similarities with texts already published. If the basic requirements for publication in Scientia Medica are not met, the submission may be rejected after these steps and the authors will be informed of the reasons. If the basic requirements are met, the manuscript is sent to at least two external reviewers, experts in the corresponding field, who evaluate the article by adding comments, suggesting changes and giving an opinion about its acceptance for publication. If the reviews are discordant, the manuscript is sent to a third or more reviewers. Documents may undergo statistical review whenever necessary. Scientia Medica uses double-blind peer review, by which authors and reviewers are blind to each other.
Guidelines for reviewers are supplied through the publishing operational system when the invited reviewer is available. They include topics as confidentiality, conflicts of interests and guidance on the practical aspects of the review. Statements on the ethical principles followed by Scientia Medica regarding the peer review process are included in the section "Principles of Ethics and Good Practices in Academic Publication", below.
After receiving the reviews, the editor makes the decision to accept, decline, or ask for a revision of the paper. Whenever necessary, advice from the Editorial Board is sought. Suggested changes are forwarded to the authors for their reply and revision of the paper. The revised original received from authors is then sent to the editor or to the same reviewers, to ensure that the requirements were met. From submission to editorial decision, the whole process can be tracked electronically by the author by assessing the site through username and password that are supplied when registering.
Final editorial decision takes the following criteria into consideration: compliance with the journal rules, originality, relevance and scientific contribution to the field. This decision is independent from commercial consideration or any other competing interests. The final editorial decision and reasons for this are always communicated to authors.
Scientia Medica does not exclude from consideration studies with findings that are not statistically significant or that have inconclusive findings. According to the ICMJE recommendations, such studies may provide evidence that, combined with other studies, may help to answer important questions, or otherwise be valuable for other researchers considering similar work.
Publication Frequency
Issues are divided quarterly, however publication is continuous by article. Articles are published as they become ready.
Open Access Policy
This journal provides open access to all of its content, based on the principle that having free access to articles generates the greatest global exchange of knowledge. Such access helps an author's publication to be more read and cited. For further information about this approach, visit the Public Knowledge Project, which developed this system for improving scholarly and public quality research and distributes the Open Journal System as well as a support software for the publishing system, providing public access to academic research.
Archiving
This journal utilizes the LOCKSS system to create a distributed file system among participating libraries and allows them to create permanent archives of the journal for the preservation and restoration. Learn more...
Article Processing Charges (APCs) Policy
This journal does not require article processing charges (APCs).
Principles of Ethics and Best Practices in Scholarly Publishing
Scientia Medica is a member of the Committee on Publication Ethics (COPE) and follows its principles of ethics, transparency and integrity in publication.
Scientia Medica follows the recommendations of the International Committee of Medical Journal Editors (ICMJE) for the conduct, reporting, editing and publication of scholarly work in medical journals.
Scientia Medica is a member of the Open Access Scholarly Publishers Association (OASPA), which represents organizations dedicated to maintaining best practices in open access publishing.
Here, we state briefly the main ethical principles that underlie the editorial policies of Scientia Medica, for the knowledge of authors, readers and reviewers.
AUTORSHIP
Authorship is based on the following four criteria:
substantial contributions to the conception or design of the work; or the acquisition, analysis, or interpretation of data for the work;  and
drafting the work or revising it critically for important intellectual content;  and
final approval of the version to be published;  and
agreement to be accountable for all aspects of the work, in ensuring that questions related to the accuracy and integrity of any part of the work are appropriately investigated and resolved.
All those designated as authors should meet all four criteria for authorship, and all who meet the four criteria should be identified as authors.
Contributors who do not meet all four criteria should be acknowledged.
INEDITISM AND ORIGINALITY
When submitting a document, the authors assure that it has not been published previously and that it is not being evaluated by another journal.
At the time of submission, the authors must assume responsibility for not use falsified or copied data.
Verbatim copies of published texts are not acceptable, except in occasional citations. Where it is necessary to copy the words of another author, the following rules should be used: after mentioning the name of the author, followed by the corresponding reference number, a citation of up to three lines can be placed between quotation marks. Largest source excerpts need to be highlighted with a two points smaller font and an indented paragraph. Both in original and in review articles, however, literal citations should be avoided.
Scientia Medica uses a software for identifying similarity: a paper with copied texts will be identified and returned to authors.
Illustrations and graphs from other sources should be credited, and be accompanied by permission from their copyright-holders, if applicable.
CORRECTION OF ERRORS AND RETRACTIONS
Before or after publication, authors and reviewers (and readers after publication) should notify the editor if any error is identified in the article.
Publisher and editors are willing to publish corrections, clarifications, retractions and apologies when needed. Authors should cooperate with editors in issuing corrections or retractions.
Scientia Medica follows the guidelines of COPE for retracting or correcting articles. Recommended steps are taken to identify and prevent publication of papers with errors or where research misconduct has occurred.
CONFIDENTIALITY
The manuscript in review is a privileged document, and is protect from any form of exploitation. The editorial team and the external reviewers are instructed not to cite a manuscript before it is published and not to distribute or use the information it contains for the advancement of their own research.
During review, the manuscript should neither be shown to nor discussed with others, and no one else should be involved in the review, except, in special cases, persons from whom specific advice may be sought. In that event, the reviewer maintains responsibility for ensuring confidentiality. The reviewer should inform the editor of others who made significant contributions to a review.
CONFLICTS OF INTERESTS
Competing interests may be personal, financial, intellectual, professional, political or religious in nature, and may occur with authors, reviewers and editors.
Authors: Scientia Medica requires that all authors declare any relevant financial and non-financial conflicts of interest and publish at least those that might influence a reader's perception of an article. Perceptions of conflict of interest are as important as actual conflicts of interest.
Whenever a relationship exists between authors and any public or private organization, which may generate a conflict of interest, this possibility is communicated and informed in the article. In case that a conflict does not exist, this is mentioned.
Reviewers: In the peer-review system used by Scientia Medica, the manuscript is sent to the reviewer without authors' identification. However, if the reviewer recognizes the authors or the institution, there could be a perceived conflict of interest. To maintain the impartiality of the peer-review process, the reviewer is instructed for determine whether the manuscript can be judged impartially. If there is any perceived competing interest, the reviewer should immediately inform the editor, so another reviewer will be designed.
The peer review process conducted by Scientia Medica and the guidelines for reviewers are well described in the section "Peer review process", in the "ABOUT" menu.
Editors: Editors will not be involved in decisions about papers in which they may have a conflict of interest, for example if they work in the same institution or have a personal relationship with the authors. Each submission is handled by an editor without any conflict of interest with respect to manuscript and authors.
Funding sources: Funding sources of the research must be declared and published, and when applicable, their role in the conception, conduct, analysis, or reporting of the research will be stated.
Editorial Board and editorial freedom: Editorial decisions are based on the relevance and quality of a manuscript. Decisions are not influenced by commercial interests, personal relationships or agendas, or other secondary interests.
Scientia Medica has a multi-institutional Editorial Board to help to establish and maintain editorial policies, support editorial decisions and manage potentially controversial expressions of opinion.
Journal owner: The journal owner, Pontifical Catholic University of Rio Grande do Sul (PUCRS), do not interfere in the evaluation, selection, scheduling, or editing of individual articles either directly or by creating an environment that strongly influences decisions. Whenever necessary, however, legal advice is available through the University Law Department.
ETHICS APPROVAL FOR RESEARCH WITH HUMAN BEINGS AND ANIMALS
Original articles and case reports need approval from an institutional Research Ethics Committee. Authors need to submit the Ethical Approval document and to inform in the Methods section that the ethical standards for human experimentation were followed, as well as the name of the institution and the number of the approval document.
Published material has to follow all the ethical standards of the 1964 Declaration of Helsinki and its later amendments. Research conducted in Brazil has to meet the requirements of the Resolution 466/2012 of the Health National Council.
If pertinent, informed consent terms were obtained from all adult participants and/or from parents or legal guardians of minors or incapacitated adults, and assent terms were obtained from adolescents and children. Confidentiality of the patient's identity is always preserved.
In case of experimental study with animals, the maintenance and care of the animals must have complied with the guidelines of country or institution's authority or agency for the human use of animals in research.
Editors are alert to concerns in the ethical conduct of research. They may ask advice from members of the Editorial Board with particular expertise in this area, and may require further reassurance or evidence from authors or their institutions. Papers may be rejected on ethical grounds even if the research had an ethics committee approval.
Indexing and Metrics
INDEXING DATABASES
WOS - Web of Science, a Clarivate Analytics database (formerly Thomsom Reuters)
SCOPUS and EMBASE - Data bases of the publisher company Elsevier
LILACS - Literatura Latinoamericana en Ciencias de la Salud
DOAJ - Directory of Open Access Journals
LATINDEX - Sistema Regional de Información en Línea para Revistas Científicas de América Latina, el Caribe, España y Portugal
DIALNET - Universidad de La Rioja, Spain
METRICS
SCImago Journal & Country Rank: 
From 2011 (year in which it was indexed in Scopus) Scientia Medica counts on the Scimago Journal & Country Rank (SJR) impact factor.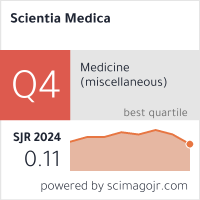 Google Scholar:  
Click here
to see the citations of articles bublished before 2012.
Affiliation
Member of Committee on Publication Ethics (COPE)
Member of Open Access Scholarly Publishers Association (OASPA)
Member of Associação Brasileira de Editores Científicos (ABEC)
Member of Associação Brasileira de Editoras Universitárias (ABEU)
Editor Eleonor G. Lago is a member of World Association of Medical Editors (WAME)
Qualis CAPES 2013-2016
Psicology - B1
Environmental Sciences - B1
Nursing - B2
Interdisciplinary - B2
Public Health - B3
Medicine III - B3
Physical Education - B3
Nutrition - B3
Veterinary Medicine - B3
Odontology - B3
Engineering IV - B3
Medicine I - B4
Medicine II - B4
Biotecnology - B4
Pharmacy - B4