Focus and Scope
Scientia Medica (Sci Med.) is the official peer-reviewed journal of the School of Medicine and the Hospital São Lucas of the Pontifical Catholic University of Rio Grande do Sul. This open access journal has the mission to contribute to the dissemination of scientific knowledge in the several areas of Medicine and other Health Sciences, with an interdisciplinary focus and with national and international scope. It is presently indexed in WEB OF SCIENCE, LILACS, SCOPUS, EMBASE, LATINDEX, and DOAJ.
Section Policies
Original Articles
Original articles are those that result from a research. In GUIDELINES FOR AUTHORS there are more details on the rules for this type of article .
| | | |
| --- | --- | --- |
| Open Submissions | Indexed | Peer Reviewed |
Case Reports
Case Reports may include up to three cases, while a larger number features a Case Series. Case Reports require approval by a Research Ethics Committee, as well as Original Articles.

See more details in GUIDELINES FOR AUTHORS
| | | |
| --- | --- | --- |
| Open Submissions | Indexed | Peer Reviewed |
Review Articles
Currently, Scientia Medica is only publishing review articles invited by the journal's editorial staff. Nevertheless, even those invited articles will be submitted to peer-review, following the usual procedure.
Please see more details on the guidelines for this type of article in RULES FOR REVIEW ARTICLES
| | | |
| --- | --- | --- |
| Open Submissions | Indexed | Peer Reviewed |
Education in Health Sciences
This section includes articles on Medical Education or other disciplines within the Health Sciences
| | | |
| --- | --- | --- |
| Open Submissions | Indexed | Peer Reviewed |
History of Medicine
Articles that address topics of interest to the history of medicine.
| | | |
| --- | --- | --- |
| Open Submissions | Indexed | Peer Reviewed |
Experience Reports
| | | |
| --- | --- | --- |
| Open Submissions | Indexed | Peer Reviewed |
Peer Review Process
This Journal employs the peer review system in the processing of manuscripts submitted for publication. All articles submitted to Scientia Medica undergo an initial assessment by the editors, regarding the minimum requirement standards and journal rules. Then the manuscript is sent to reviewers, who evaluate the article by adding comments, suggesting changes, and giving an opinion concerning its acceptance for publication. Authors and reviewers are blind to each other. The editors make then the final decision. In special cases, advice from the Editorial Council is sought. When modifications are suggested, these are forwarded to the authors for reply and, subsequently, to the proofreaders to ensure that the requirements are met. Documents may undergo statistical review whenever necessary. Articles are accepted by taking the following into consideration: originality, relevance and scientific contribution to the field. From submission to editorial decision, the whole process can be tracked electronically by the author by assessing the site through username and password that are supplied when registering.
Publication Frequency
The issues are divided quarterly, however the publication is continuous by article. The articles will be published as they become ready.
Open Access Policy
This journal provides open access to all of its content, based on the principle that having free access to articles generates the greatest global exchange of knowledge. Such access helps an author's publication to be more read and cited. For further information about this approach, visit the Public Knowledge Project, which developed this system for improving scholarly and public quality research and distributes the Open Journal System as well as a support software for the publishing system, providing public access to academic research.
Archiving
This journal utilizes the LOCKSS system to create a distributed file system among participating libraries and allows them to create permanent archives of the journal for the preservation and restoration. Learn more...
Conflict of Interest Statement
Whenever a conflict exists between authors and any public or private organisation, which may generate a conflict of interest, this possibility must be communicated and it will be included in the article. In case that a conflict does not exist, it should also be mentioned in the title page.
Languages
Articles can be written in Portuguese or English.
History of the Journal
In November 1988, Medical Journal from PUCRS was created with the objective of disseminating scientific research. In January 1999, an electronic version was created at the website of the University. "Scientia Medica Project" in 2004 brought with it a new name for the journal – SCIENTIA MEDICA. This project had the principal objective of stimulating academic publication among professors, professionals and post-graduate and under-graduate students of Medicine, research institutes and courses in the health sector both inside and outside the University. With this initiative, the journal opened its doors and began to accept articles from various institutions. In 2006, Scientia Medica gained a new editorial team. In the same year, the Electronic System for Journal Publishing (SEER) was implemented, which turned the publishing process easier and more practical.
Indexing and Metrics
INDEXING DATABASES
WOS - Web of Science, a Clarivate Analytics database (formerly Thomsom Reuters)
LILACS - Literatura Latinoamericana en Ciencias de la Salud
DOAJ - Directory of Open Access Journals
LATINDEX - Sistema Regional de Información en Línea para Revistas Científicas de América Latina, el Caribe, España y Portugal
OJS/PKP - Open Journal Systems/Public Knowledge Project
SCOPUS and EMBASE - Data bases of the publisher company Elsevier
METRICS
SCImago Journal & Country Rank: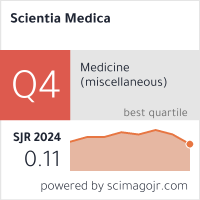 Google Scholar:  
Article Processing Charges policy
This journal does not require article processing charges (APCs).
Qualis CAPES 2013-2016
Psicology - B1
Environmental Sciences - B1
Nursing - B2
Interdisciplinary - B2
Public Health - B3
Medicine III - B3
Physical Education - B3
Nutrition - B3
Veterinary Medicine - B3
Odontology - B3
Engineering IV - B3
Medicine I - B4
Medicine II - B4
Biotecnology - B4
Pharmacy - B4